The week's been something of a blur, but I think that everything is starting to fall into place. My second week at werk had me doing more things for the first time ever, but things seem a bit more routine-the people don't look at me oddly anymore, and more of my colleagues speak to me on a regular basis. and I don't feel so much like the odd one out, especially now that I'm conforming more to the dress code.
I've always crowed about how at my last job, I was crawling around and underneath people's desks and things but I had to wear slacks and button down shirts tucked into my pants in order to do it. Now, I don't do any of that anymore-in fact the most physical labor I do is racking servers in the data center, and that's enough thanks. But at the new place, the dress code is completely casual. Officially it's "business casual," but the emphasis is so far on the casual that people wind up wearing tshirts and jeans to work on a regular basis-they just have to look somewhat presentable; so no tshirts with stuff on them. Most people wear sweaters, polo shirts, and other varieties of solid-color tops and generally jeans or slacks of some kind as pants. I absolutely love it, but it's ironic that I spent a good clip of cash on dress clothes prior to my getting this job. Ah well, there's always other events that'll require more dress clothes.
So this weekend, my parents stopped by and gave me a lovely sweater for my birthday (which is Tuesday, actually) which, coincidentally, fits into the dress code very well, and dropped off a strawberry-rhubarb pie of the kind I haven't had since I was a child. My beloved Raevyn gave me the Logitech G15 gaming keyboard that I'd been drooling over for a long time now. She says she got a good deal on it, too, so I'm happy all around. In fact, I'm using the thing now, and let me tell you, gamer hype doesn't fail on this one-it's excellent.
Aside from that, the weekend blew by in a flurry of events, entertaining my parents and cooking them a delightful dinner (I love when my parents come to visit; it gives us an excuse to cook a grand meal, this time consisting of vegan macaroni and "cheese," seasoned kale, and for my parents and I, baked salmon filets. Raevyn was largely responsible for the mac and cheese and the kale, I did the salmon and we both chose the wine) and then venturing out to show them our favorite organic market in the area. We finished our grocery shopping, bid adieu to my parents as they hit the road home, and cracked open another bottle of wine to toast out the Saturday evening with. It was a lovely little celebration.
In other news, the latest in the "I'm in your noun, verbin' your noun," gags is this fine photo: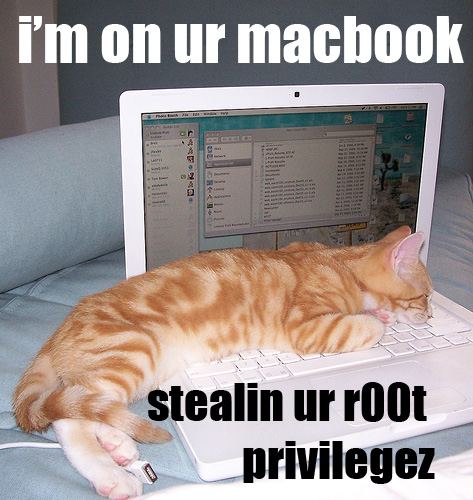 Which is hilarious mostly because I'm a Macintosh geek, because I own a MacBook Pro, and because the little kitty sleeping on that keyboard has the mag safe power adapter between his little feet!
Among the other amusement the net has provided me over the past week are this listing of the geekiest license plates ever, which sadly doesn't include mine-I'm happily the owner of Maryland license plates "PH34R," thank you very much, but there are definitely some winners in there. Raevyn says that when she gets a car, she's going for "AFK."
Also, I think these DIY floppy-notebooks will have to be my next pet project. Goodness knows I have tons of floppies lying around.