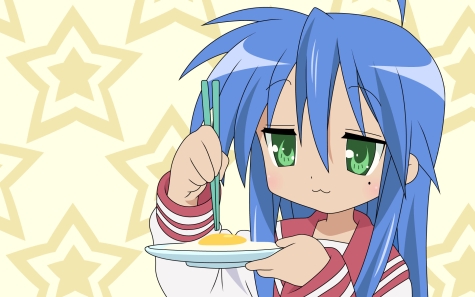 I've had that Starecase track in my head all morning. I first got the vinyl probably something like 4 or 5 years ago. I used to keep it in my head when I fell asleep – it was my respite in love, a song I could sing in my mind to someone I cared for deeply. These days I use it to remind myself – sing it to myself – remember to have some faith in myself as well.
Had a little trouble falling asleep yesterday – I think I came down with one of those 24-hour bugs, I was really hot when I woke up, then had chills all afternoon, then wound up sweltering again in the evening (I turned the thermostat up, so that probably didn't help). I keep my iPod Touch in the dock next to the bed, and I've been getting back in the habit of sleeping with music, so I decided to fire up some tunes. I hadn't used Pandora in a long time, instead preferring TheSixtyOne for my music discovery needs, but the iPhone app was easy to use, and played even when my iPod was docked, so that worked out nicely.
Started off with a little Mark Farina – some mushroom jazz and funky house would be the ticket to a peaceful night's slumber, right? Not so much – wasn't relaxing enough. I decided to switch it up and move to my Yoko Kanno station. That didn't work either – too nostalgic. After all, She really is "so number nine," and she really "is incredible math." The last thing I needed were thoughts of the Major while I tried to drift off to sleep. So who came to my rescue?
My good old friend, who's been there for me longer than I've been here, Miles Davis. The sounds of songs older than I am, rising and falling in their emotional, emphatic storytelling lulled me right to sleep. Jazz is anything but boring, so don't associate the music I listen to when I'm trying to rest as boring, soothing stuff, but it was nourishing enough to the soul that it let me rest. I think I need to listen to more jazz.
In other news, I've been doing it a little like Konata up there (I'm going to run out of Konata images to use as headers in a little while) and experimenting with food a lot more these days. My parents brought me down a ton of cucumbers from their garden, and for about two weeks straight I've been coming up with interesting things to do with them. The first week were cucumber/tomato/bacon sandwiches, then I wound up making a massive batch of tzatziki sauce, then a huge pitcher of cucumber, mint, and lemon infused water, and I still have a few left over.
Between the cucumbers and my getting back to my "before I sleep" list that I've been keeping at Aeria Gloris, I've been in the kitchen a bit more than usual these days, and that works out just fine for me. Considering I live right next to a grocery store, I tend not to stock up terribly much because I can just drop by on the way home from work and pick up fresh ingredients for anything I might want.
So in my last post I was talking a bit about my own doubt on the direction I'm taking in my life, and as if almost on cue (are you reading this, Dad?) my father called with some sage advice that made me feel a bit better. In the end, I need to spent the bulk of my energy doing the things that nourish my heart and soul – not the things that oppress me and take me in the wrong direction. When you focus on that fundamental truth, you'll start moving in the right direction – let your destiny carry you. The rest just falls off to the way-side.
That being said, there are more than a few things that I'd like to do for myself, so I should probably get working on those when I have the time and the opportunity. You make time for what's important to you – that's natural and almost involuntary. What you do have complete control over is choosing those things that are really important to you.