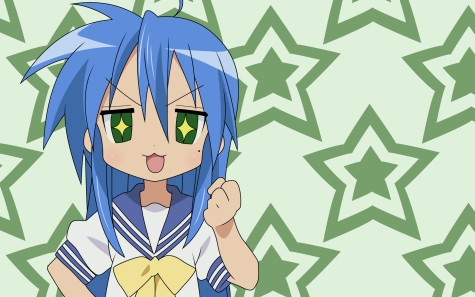 It's been a hell of a week. Being on-call last week got me started headed into the werkweek tired as all hell, and I don't think I managed to catch up and have a full, restful night's sleep until last night. And even then, I woke up, watched some TV in bed, checked my e-mail, Plurk, then Twitter, then surfed the Web a little (all from my glorious iPod Touch), and then rolled back over and went to sleep for a few more hours.
That last three hours must have been incredibly restul for my brain, considering I had some of the deepest, most interesting, must lucid dreams I've had in a long time during that last three hours. In one, I found a pet "water fox," which looked like a fox but was about the size of a small goldfish, and I had to keep finding ways to keep the poor guy wet at all times, and for some reason I didn't have easy access to a glass. Hilarity ensues, with me trying to make sure I keep the guy moist but don't drown the poor fella.
The other one…I really don't remember at this point, sadly.
I wound up getting up, heading next door to the grocery store to pick up some veggies and a few cleaning supplies, came home, and ordered dinner just as the thunderstorms were rolling in. Turned up some coverage from Blizzcon, ate some cake and drank some coffee, and tried to relax for probably the first time in several days. Tomorrow I have to head up to check on my parents' house while they're visiting our family in Canada – just to make sure everything is okay, that they haven't received any packages (and if they did that they get inside safely), and I'm kind of looking forward to the drive – the long drive up and back is always relaxing when I'm doing it because I want to, and even when I'm not it offers some amazing scenery and a great opportunity to clear my head and listen to the radio.
Oh. You probably noticed that I'm rocking out to a Miley Cyrus song up there. Yeah, that's…unfortunate. Compounding how terrible it is is the fact that I was introduced to it by a Walmart commercial. I feel like I've somehow betrayed a part of myself by liking it so much, but…it's so hook-y and pop-y! You listen to it and tell me that it doesn't make you bob your head. Go on, I'll wait.
Stuck in your head? I figured. Here, try some Shiny Toy Guns to get that out:
In other news, I've finished up the review process for all of the units I picked up for Tom's Hardware. Now on to actually writing the article, and it's going to be a long one. That's never stopped me before though, so I'm looking forward to plodding through it. In the same vein though, I'm curious when the piece I did for PopSci will turn up. I really liked that one, and it was fun to write.
As busy as I am at the office, I could use some more freelancing clients. I love writing so much, and I think I'm on my second month of keeping all of my blogs up to date on a regular schedule – it seems like writing more just makes me want to write even more. It's so strange saying that, because it's such an odd feeling to have. Don't tell my boss's boss though.
Speaking of passions other than my "job," I just picked up a new mixer! It arrived a few days back and I set it up today. It works, no doubt; the only issue now is getting the audio out to my computer that I'm using as a home theater machine (which I also use to record my mixes) and out to its speakers. I set it all up when I moved in and when my mixer broke I didn't get a really good chance to test it all, so now I have to figure out what's up with the cabling. But when I do, there will be mixes, oh yes.
I made a point to get a three-channel mixer so I could plug in an extra audio source like a scratchpad or-more likely-an iPod loaded up with mp3s that I'd like to include in my mixes. I've been rocking out hardcore over at TheSixtyOne, and if you want to see what I've been listening to, here's my profile. Among some of the tunes I can't stop listening to? This textbook lesson in good electroclash, Industry [detroit ironworks edit] by Wierzbowski:
As for all the news from Blizzon? I made my obligatory post over at the Azeroth Metblogs; it's really funny because first I'm not there (must be corrected next year), and second the folks at WoW.com, who are both paid to write about WoW and are indeed at Blizzcon have covered the event so fabulously I don't even want to compete – I just want to keep linking to their fabulous posts. There's a lot of exciting stuff coming up in World of Warcraft; now's a pretty awesome time to have the opportunity to play and to write about it.
There's the rub though – I've been so busy writing about WoW that I haven't had as much time to play the game! Which is sad; for all the effort I put into publicizing my posts and getting the poor Azeroth Metblog back to its place of glory (I mean, BoingBoing wrote about us back in the day, and there were interviews with Sean Bonner – the creator of Metblogs – about it) I feel bad when I log in and even my guildmates, as few and far between as they are these days, don't know that I write about WoW at least twice a week.
Then again, some of them would pretend they didn't anyway just so they could pretend to be superior in every way, but that's a whole different barrel of drama.
In any event, it's off to have a finger of scotch and maybe do some blogstorming for another secret project that I've been meaning to put some more work into. I'll leave your with some killer shamisen rock that brighten up your day.