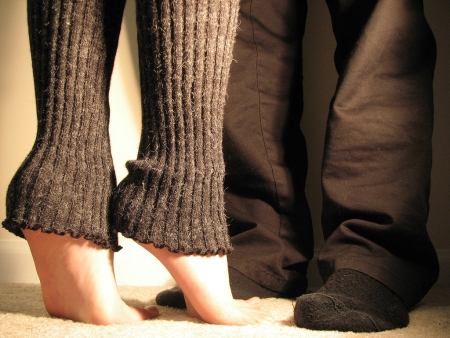 It's getting colder outside and I love it. I've already made full use of my investment in some long sleeved dress shirts, and I'm definitely looking forward to breaking out my woolen coats, both long and short, and feeling the chill air of the season.
I just had a conversation with someone over at Plurk about why I love the fall so much – I'm a very asethetic person, so the fall has always appealed to me: it's the end of the heat and swelter of the summer, but it's also the beginning of the overcast days that I love, where it's dark enough that I don't have to wear sunglasses but still daytime. Days like today, where the streetlights are confused as to what time it is. I love that it's hoodie season, and I can walk down the street in a long sleeved dress shirt or a henley and I'm not too hot. I love the smell of apples, both cooking and fresh, and I love the slow change of the leaves from lush and green to brown and red and finally coating the ground in a nourishing carpet from which life will come again in the springtime. I like the smell of wood smoke and people lighting fires and turning on their heaters for the first time of the year.
I like ladies in short skirts, tall boots, and long jackets, all of whom seem to only come out around this time of year. I like gentlemen in shiny dress shirts with long sleeves all wearing the ends cuffed differently. I like an excuse to put on my black shirt with the french cuffs.
Sure, it doesn't hurt that October also harbors my birthday, but I'd be an October child anyway, I think.
In other news, it's been a pretty hardcore writing week for me, and I'm glad to say so. I've gotten some great feedback on my Gears and Widgets column on multi-ethnic steampunk possibilities, and I think I was spot on with my roundup of Apple's recent product announcements.
More professionally, I started this week with a hands-on of Grooveshark's new interface, and then wound up following it up with another in-depth look at a similar service called JukeFly that I admittedly didn't like as much, but see the usefulness of.
This weekend I'm clearing out my writing dance card to spend some time on a pet project I want to announce badly. We'll see how it goes, what with it also being Halloween and all. Speaking of which, I have my lab coat all ready.
Now then, I need to hunt for wordpress themes – I have big plans, and I've been wanting to make these entries a little more targeted and less vomitous – although frankly, I think everyone needs a place to be a little vomitous too. So less vomitous, not totally un-vomitous. You'd be dissapointed if I weren't vomitous, I know!