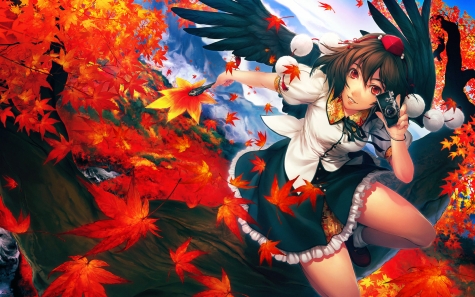 It's getting colder. Not that I mind – I tried on my winter coat for the first time since last year's cold – the one I had left at my parents' because it was one of the many things in my arms when I fled there in the spring – and found myself swimming in it. It's a pleasant surprise, but then again, Autumn has always brought me nice things, including the passing into Winter. I don't mind either, as long as I can stay warm.
One the way back from my parents' house for Thanksgiving, I was listening to The Blues Show on WXPN and thinking about the monumental truths that blues artists had to have been tapped into when they were singing, enjoying every note. It's really remarkable how many people really think the blues are deep, down, depressed music, and to a certain extent they are – when you have the blues, it means something – but at the same time the blues often are some of the most inspirational music you could listen to. A number of songs tell you all about the deep, dark hole that the singer is in, but always there's a glimmer of hope somewhere behind the music. It's really remarkable how good I felt while listening to the blues, and I was feeling pretty good before I turned the radio on.
On the way home I was thinking about everything I needed to do when I got back to my pad. Reseat my computer's processor, do the laundry, tidy up the place, get some writing done, book my travel plans, and I had something of a realization – it didn't feel major, and I won't characterize it as epiphanal even though it may be: I was looking forward to all of it. I was looking forward to all of the tough stuff, all of the fun stuff, I was even looking forward to going back into the office at werk on Monday. And as I told myself in my head that I was looking forward to it, the same voice in the back of my head piped up and said "I'm looking forward to all of it – I'm looking forward to life." I think that's the first time I've ever been really said that to myself, and it was an incredibly liberating thing to feel. That doesn't mean there won't be difficult things, that doesn't mean there won't be things I don't feel like dealing with, but it's a great feeling, even now when I say it to myself again, right now.
So speaking of my poor computer, Deneb, was sitting on my workbench with the side case door off because after pwning n00bs at the office LAN party on Wednesday (which was crazy fun, and we definitely need to do it more often – I learned that apparently I have mad latent Call of Duty: Modern Warfare multiplayer skills) I got her home and hooked her back up to discover that she would only stay on for a few minutes before shutting herself off. Granted, by the time I got home on Wednesday I really needed to decompress and get some sleep to head up to my parents' place for Thanksgiving on Thursday, so I fiddled with her a bit, just long enough to realize that the auto-shut off was symptomatic of an overheating processor (the Core i7 is smart enough to shut down before temps get to dangerous levels) and upon checking the heat sink and fan I found it loose and not firmly fastened down – it must have wiggled loose while I was lugging her back and forth to and from the office.
Since I really needed to get to bed, I played a little Soul Calibur IV on the 360 and head to bed to get up for the holiday and head up north to see my parents. Thanksgiving itself was lovely as usual – my father brined a turkey and it was probably the best turkey I've ever eaten in my life: it was so good I wound up picking at it in the middle of the night and even wanted to eat the white meat – something I almost never do because it's usually too dry when compared to the dark meat to me. Dad also made his legendary macaroni and cheese, Mom made stuffing and candied yams, you know – classic Thanksgiving eats, and it was all phenomenal.
My parents napped over the course of the night because they were headed up to their local Air Force base for a Black Friday sale in the wee hours of the AM (and they returned triumphant with a shiny new Sony Bravia HDTV and Sony blu-ray player for my parents' living room that looks spectacular…I'm glad I helped them pick it out!) and I spent the evening writing a bit and catching up on sleep. it's completely out of the norm to do Black Friday sales in our family, but I have to admit, it was a pretty good deal they caught. Now it's on to Cyber Monday.
Friday and Saturday I spent the day with my parents, indulging in good advice, sharing some technology buying tips for them this holiday season, getting caught up with my weekly writing that I missed over the holiday, and helping out a bit around the house. Saturday night I finally got a chance to really test the GPS feature on my Morotola Droid, and I can honestly say it's amazing enough that I don't need to buy a car GPS anymore – now I just need to pick up the car dock so I can put it on something while I'm using it to navigate. It actually found a slightly different route to get me home that's a little faster, so no complaints there.
And here I am at home. On the way out of my parents' house watching a special on Motown music and groups like The Four Tops and The Temptations that kindled an old love of traditional R&B and Soul in my heart. On the way home, listening to the blues while I was in range of XPN out of Philidelphia, then over to The Shamrock and Thistle where I listened to protest songs, labor march chants, and civil rights protest spirituals penned by Pete Seeger (who is a literally amazing man in every sense of the word – the man who wrote "If I Had a Hammer" and the original writer of "Turn, Turn, Turn," and one of the people responsible for making "We Shall Overcome" a popular anthem of the civil rights movement, and "Step by Step," of which the video is above) and an interview with him, then listening to Hot Jazz Saturday Nights when I was in range of WAMU in Washington DC, thrilled to be in my own little world of beautiful old music. Even this morning I hit the iPod on the dock next to my bed, fired up Pandora and started my Miles Davis channel to listen to some Jazz.
When I was a child, there was always music in our house. Especially on Saturdays and Sundays – and really especially on Sundays. I would wake to the smell of food cooking in the kitchen and the sounds of Gospel in the morning and Jazz in the late morning and early afternoons. When my parents made the switch from Gospel to Jazz, I knew it was time to get up, get dressed, and head out to join them.
Speaking of music, I should tidy up my last 2 mixes for Plastic Bohemia and post them – I've been procrastinating because I know there are some mixing errors in them and I hesitate to post them publicly, but my friends at Plurk have been nagging me for them, so I'll concede and chalk it up to practice. Between that, some writing, and booking my travel plans (more on that later), I have a lot to do, and I'm going to try and get a lot of it done today so I don't get lured into the inertia of the werkweek and wind up not doing anything.
With that, I'm looking forward to all of it. Damn it's liberating to say so.