sense :: taste // a fine Cabernet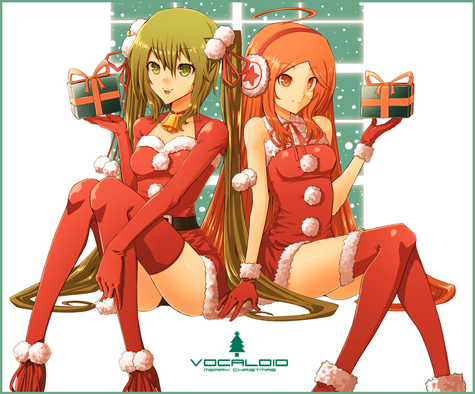 From the Vocaloids and I to you and yours, I hope you're having a very happy holiday season – a happy hanukkah, a merry christmas, and a very very happy new year.
Yes, I'm being a bit facetious, but I can happily say that this holiday has been absolutely fantastic, and I like to think that it started long before the actual day – Thanksgiving was lovely as I mentioned, and my trip to New York City was phenomenal and I still have tons of stories to tell from it. (I'm only partially kidding when I say I left my heart back there.) I got all of my holiday shopping done before I went to New York, so it was all waiting for me when I got back, no last minute rush there, and like most years I managed to get all of my holiday shopping done without setting foot in a store or having to shove my way through people. (with the exception of having to pick up holiday cards and wrapping paper, so there was that) All in all, it was chill, relaxing, and almost entirely without undue stress. I even had a chance to get a little people-watching in when I went to get my wrapping paper.
Everyone was happy with the gifts they received this year, and I splurged a little bit on my parents – picked my mom up some gadgetry that she needed (an iPod Touch to replace her now-dead Palm Zire and a
Nintendo DS she can't put down) and gave my dad something to make the most of his shiny new HDTV he picked up after Thanksgiving – Planet Earth on Blu-Ray, and a Harmony One remote. I gave them a few other things, but I think they really appreciated those.
I on the other hand picked up a few things I needed, some workout clothes that I like a lot, a little bit of spending money, all lovely things (I may take some of that spending money and put it to some of the Blu-Ray discs on my wishlist!) – and thanks to the lovely Narilka and Zannah, I now have a shiny new copy of Borderlands! I really can't begin to say how grateful I am for such generous friends this year.
My white elephant for the shack was very well received, and mine should be on its way, so I hear; and the secret santa we set up over at Plurk (again thanks to Narilka) went swimmingly – my giftee has yet to get the ones I ordered for them, but the ones I got were lovely, delicious treats and some gloves to keep my hands warm! (you can see them at at my moblog here)
So all in all, it's been a pretty bountiful holiday season, and at the same time it's been personally rewarding too – lots of time with family and friends and people I hold near and dear to my heart. It's been good to be surrounded by people who love you and cherish your presence in your life, it's a feeling I'd recommend to anyone, and if you're ever in town, hey – let me be one of those people, okay?
In other news, I've been fixated on the closing theme to K-ON! lately, it's been firmly implanted in my head and it won't come out, so of course I'm going to share it with you:
The first line (and the chorus, wherever you hear "lazy" and "crazy") translates to "Please don't say you were lazy when you were actually crazy." I love it. It's a little misrepresentative of the anime, since Mio (the dark-haired girl singing in that video) is actually the Bass player and Yui is the lead guitarist and does a lot of the singing, but I love it anyway. They also did a lot for a closing sequence to make the characters actually appear as though they're singing the words of the song, which I thought was a really nice touch. Mio's expressions in various places are kind of compelling too. All in all, it's pretty well done, I dig it.
I won't embed another one, but the opening sequence to K-ON! is a different matter. Aside from being one of the most sugary adorable things I've ever seen, the work put into making it look like Yui is actually playing the guitar (look closely at 0:07 and 1:01) although I'm not a guitar player, so it could just LOOK impressive and be nothing more. Still! Cool effort.
I haven't actually been paying attention to anime lately – I don't remember how I stumbled on the K-ON! opening and closing themes, I haven't seen any of the actual anime, although that may have to change if they're that adorable. I could use a few more uplifting and actually happy titles in my collection – not everything I watch and enjoy has to be heavy and difficult.
Speaking of heavy but still enjoyable, the office treated us to Avatar in IMAX and 3D, and I have to say it was worth the experience. I didn't have to pay for it or the snacks, but even if I had I would have been happy to – and to spend the 2 hours and 40 minutes I spent in there. For being such a long movie, I have to say it moved VERY quickly and kept the pace up throughout. The story's been told a dozen times, so I didn't expect too much there, although it was still enjoyable. What was absolutely fantastic was the world that the movie created: the world was distinctly alien to our own, but familiar enough that it really did seem like a place you could go to and set foot on. Everything from the bugs hanging in the air during some of the panning shots to some of the amazing animals were all impressive – and the fact that the Na'vi characters were all entirely CG but came off like real human beings (complete with emotion on their faces and non-verbal actions that were completely believable) made it incredible. I'm actually really glad I saw it, and glad I saw it in the theaters on a huge screen, and in 3D. That's saying a lot for me, since I'm normally not a huge "go to the movies" person.
And yes, Avatar completely rekindled my love for Michelle Rodriguez. Yum.
That aside though, here's hoping this coming workweek is nice and slow, and since Alms and Rae will be in town for New Year's, there's something else to look forward to – it's actually funny, since I just found out, and I had been thinking earlier about whether I wanted to head down to Annapolis for First Night or do something a little closer to home. Looks like closer to home it is!
Then the weekend after that it's onto a plane and out to Las Vegas for CES! Another adventure, and I'm staying in a lovely suite in the Bellagio. I wonder if I'll be able to see the fountains from my room! Even if I can't, I hear they're not to be missed, and Nari and a ton of PC Mag folks will be there at the same time as I will, so I'll have some company when I want it. I hear there are crazy nerd parties out there – cocktails and marketing reps showing off their hot gear. Kinda looking forward to that. I should probably put my stuff in to the dry cleaner's before I go.
In the interim though, I hope you all had as lovely a holiday as I have, and have a wonderful wonderful New Year's. I've been thinking a bit about my resolutions from last year, and how well I've done. I knocked a few of those off the list pretty easily this year almost unintentionally, but it's good to see that I've internalized so many of my personal goals, large and small. I have to chuckle at myself from a year ago though – I've learned so much in such a short period of time. Here's to 2010.