sense :: taste // chocolate espresso cupcake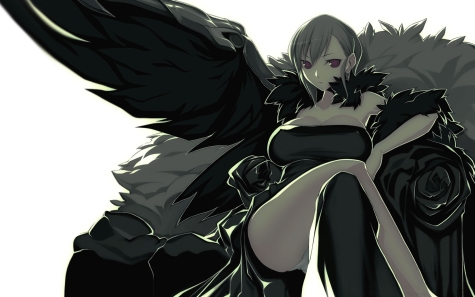 Waking in the mornings is getting just a little tougher; it seems just a little rougher to open my eyes these days. I can tell that it's really not just me, it's spring – springtime is coming. Normally I don't much care for spring; I normally say that bad things happen to me in the springtime. That could be true; that trend could very well continue, but when I look out of the windows and see everything blooming and the trees flowering and the wealth of possibilities in front of me, it's difficult to really hold on to that belief. The beginnings of what could very well be a beautiful spring are starting to bloom, and I had promised myself that someday the seasons would change again and I wouldn't force myself to be locked into the same mindset that I used to have about them.
It probably won't stop me from being completely in love with the autumn, though.
So I think I've concluded negotiations with the Company that some of you know I was speaking with, and even though it looks like nothing will come of it right now, you never know – maybe something else down the road. Neither I or they are going anywhere, so who knows what the future holds. In the meantime though, I think things will stay the way they are for a bit. I don't really have a problem with that – like I mentioned in my last post, all of the traveling I've done lately has all but made me want to travel more (maybe by other means though, I could do without airplanes for a little bit) but at the same time it's given me a new appreciation for the things that are here in my backyard that I was worried I hadn't given ample attention. The wine bar across from a farm that I've never set foot in, or the gastropub that opened where a Bennigan's was when I was growing up that serves poutine and duck-fat fries that I've been dying to try.
Don't get me wrong, now that I know the trip across the country is about 6 hours, and the trip across the Atlantic is also about 6 hours, I have every intention of getting my passport and taking more trips. Maybe sometime soon to a place where i don't know the native language – although if I do that I might need to find someone to accompany me.
In any event though, I see some day trips and weekend jaunts in my immediate future, and planning for Otakon, which is rapidly approaching. I haven't pre-reg'd or booked a hotel room at all yet, but considering the group will likely be bigger this year than it has been in past years, I might need to consider a bigger space. Regardless, I should probably think about it. And if I want to do costumes this year, I should probably start shopping – or else risk wearing the ones I have already, which are massively large on me anyway. I wonder if I could work a cosplay story into The Classy Geek.
Anyway, I uploaded my photos from San Francisco to Lorelei Complex among others – I didn't take too many photos I admit. Still, flying over the Rocky Mountains is a wonderful experience to watch, and then crossing over and hitting the warm air over California and seeing all of the wind farms spinning gently along the valleys is also beautiful. Yeah, I know I've been talking about traveling to new places and enjoying the places I already know, but I could definitely go back.
Speaking of traveling and being tired though, here's hoping the load lightens up at the office a little bit though so I don't have to quite wake every morning and go to bed every night firing on all cylinders just to stay on top of things. You know things are going pretty rough when even my boss is telling me that I need to take a day of comp time off on him to recharge. I'll definitely take him up on it, just not yet.
In other news, today's iPad day, and while I really really dig the device and really do kind of want one, I just can't justify it – I have digital devices in so many facets of my life right now that I can't see a hole the iPad would fill; I carry my laptop around with me a ton, and that's not a problem – I love it. I use my smartphone from bed at night and in the morning or whenever I want a quick check of my email. An iPad would be ideal for book reading on planes and in bed though, so there is that. There may be one in my future, just…not the immediate one. Even so, it hasn't stopped me from peeking at a new MacBook Pro. Not that I need one, just…while I'm shiny-struck it can't hurt as long as I don't pull out the plastic.
Maybe I can get a bargain like I did last time, add the laptop to my cart, and someone will give me a ring to seal the deal. The personal attention (and the discount) definitely helped last time. That and the fact that a new laptop would be tax deductible both certainly help make the purchase worthwhile. Anyway, still shiny-struck. I have some additional work to do on my finances before I could responsibly drop the cash on something like that, I think.
Next week though, I plan to spend some more quality time with my DDR pads, maybe a little time behind my turntables redoing mixes I've already recorded. I have the tracks laid out already in my apartment, I just need to re-record them and see if I can improve on the mistakes I made in the original recordings. All of this requires time though; something that's been in short supply lately and the time I have had I've spent writing – a worthy use of it, but still. If only there were more hours in the day, eh?
Then again, every time I complain about there needing to be more hours in the day, what I really mean is that I wish I had more of the same hours in the day to do as I chose. I think there'll be some working from "cafe" days and long writing lunches in my near future. It's the least I can do for myself to make the most of every minute of every day, even if I'm somewhere I don't always want to be.
So. Suffice to say, I think there's a few things to keep me busy near home right now. For example – apparently there's a jellyfish exhibit at the National Aquarium. I should stop in sometime soon.