sense :: touch // yards of wrapping paper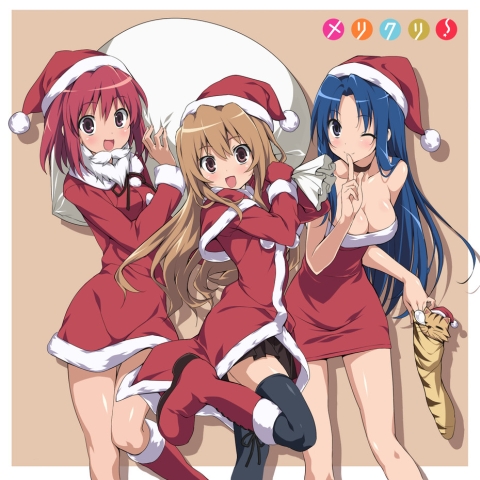 I've had this Target commercial in my head for the past couple of weeks. I think it's my unique way of being festive. The gifts are all wrapped, the cider is mulled, the apartment smells fantastic, and there's some cold eggnog in the fridge and rum on top of it. The holiday season is in full swing, and on this Christmas Eve Eve, I'm happily sitting back and enjoying the atmosphere, pondering gifts and New Years events for next week.
Over at Plurk, Narilka asked the question: what's your favorite holiday memory? I thought it about it for a while, and sadly didn't get a chance to respond before the thread kind of went off the rails into hilarious territory, but I figured it would be a good thing to blog about.
When I was a kid and living in Germany, a lot of the other children I used to hang out with were part of the military community and kids that I went to school with, so I knew a lot of English speaking children. At the same time though, we learned a lot about Christmas traditions that aren't necessarily the American style, and considering how old I was, it makes sense that some of those German Christmas traditions tend to resonate a bit more with me than some of the more happy and fluffy American ones.
One of the cornerstones in the German tradition was that Christmas Eve is the big evening, not so much Christmas Day – and that Santa Claus to Americans is somewhat analgous to Saint Nicholas, but instead of dropping down chimneys to deliver presents under the Christmas tree (which we still indulged, don't get me wrong,) all of the children left their shoes (and in many cases, their parents too!) outside of their doors for Saint Nicholas – patron saint of children – to leave treats in. Because the the community was semi-urban with lots of apartments and townhomes, and because the people in our community were a combination of US Military families living near base and German families who lives and worked on or near base as well, there were plenty of shoes to fill. Saint Nicholas clearly needed help.
So what did all of the good little Army brats do? With the help of our parents, we cooked up lots of popcorn ball treats and treats and put them in little clear plastic bags. We filled sacks with them, dressed ourselves in white (I think we were supposed to be angels) and went from door to door, leaving treats in the shoes, the same way Saint Nicholas does, according to legend.
Admittedly, Saint Nicholas' feasting day is December 6th, not Christmas Eve, and it's very possible that we did this on the 6th and I'm just compressing time in my memory – but it felt like Christmas Eve, what with everything going on, and the fact that I had the distinct impression that I had to be home soon to be abed myself, or else I'd miss Saint Nicholas/Santa Claus's visit to my own home.
Of course, upon returning home under the guidance of another soldier in our community who somehow was tasked with sheperding most of us children back to our respective apartments and flats, I celebrated with my parents with hot chocolate, holiday specials on television, and of course, a good night's sleep to prep for the gift-opening frenzy of the following morning.
Maybe it's the fact that it was a holiday well spent doing things for other people in the community, maybe it was the opportunity to indulge a Christmas tradition that wasn't the same as I'd been used to, but that holiday definitely ranks as one of (if not the) most memorable I've ever had. All of my holidays have been filled with love and laughter, but that one was unique and it'll always stand out in my mind.
In other news, now is usually the time of year that I look back on my resolutions to see how well I've done. As usual, and as with most years, my progress is usually determined by how well I can generally insert those resolutions into my day-to-day life. I don't, especially when the year gets into the swing of things, start thinking about my resolutions and look back on them in the spring or summertime, for example.
So, let's see…what did I say last year? Oh, that's right – I didn't make specific resolutions last year, because there was so much going on. Travel to New York City for fun and for New Year's, travel to Las Vegas for CES (which I regretfully won't be on the way to come Jan 2011,) and so on – I committed myself to making more progress on my standing goals from the beginning of 2009, and I think they still hold water.
I've been doing really well on all of them, strictly – I've traveled more in the past year than I have in the past several years, and CES notwithstanding, I don't want that trend to stop. I do much more on the weekends than sleep – I've been to wine festivals and happy hours, visited amazing creperies in downtown DC and revisited a fantastic diner a little closer to Baltimore. Suffice to say I'm much happier with the state of my activities than I used to be.
I could stand to get back on the horse when it comes to working out, but that'll come on its own. I think I need a Wii – I'm so tired of the tracks in my copy of DDR for the PS2 that it's not even funny. Oh! I said I need to take more pictures. I've been doing that but slacking in recent weeks. Nice reminder.
Beyond that though, the technical stuff are all things that I haven't managed to do – my VHS tapes are still sadly decomposing quietly, and my CDs sit stagnant behind me, both groups waiting to be digitized and saved from their eventual destruction. I think next year – especially with my plans to move into a place downtown in DC – will be a year of minimizing, so there'll be new motivation to make sure that those tapes and CDs go digital and get backed up…and hopefully then get put into boxes from which I won't need to remove them.
I also suggested that I revive my Livejournal theme, "Before I Sleep." There's something I haven't even looked at for a few months, and since I've spent less and less time at Livejournal aside from using it for my own little moments of Zen, I'd forgotten about my plans there. Another good reminder – I might get started on some of the foods and drinks I said I wanted to learn to make sooner rather than later. After all, one of my old bosses used to explain that he got so good at cooking and bartending because he challenged himself to learn how to cook and mix something new every week, without fail, regularly.
All it takes is practice – something I'm proud to say is definitely its own reward sometimes. After all – it's been just over a year since I put all of my blogs on an at least once-weekly update schedule. The only one I've let myself slip on is this one since it's purely personal, but all of the others have been regularly updated. Here's hoping the readers over there appreciate the fact that they can bet on new content every week. Now if only I had even more time to write, maybe I could toss something up on each of them daily…but let's not get ahead of ourselves.
So. With all that said, and a little attention paid forward to the New Year, I wish you and yours a happy, healthy, and safe Holiday. Seasons Greetings to all of you, and here's looking forward to 2011.