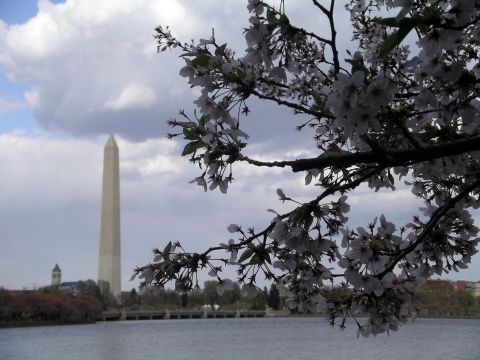 Yes – those cherry blossoms? They'll be back soon.
Last week I took a vacation. A serious, well deserved vacation – the kind where I actually unplug from the net (not that I wanted to, the nature of the trip forced me to,) spent time with the lovely Raevyns, had a great time relaxing, got some reading done, and saw some amazing sights.
Thanks to her company, every year the staff get to take a big vacation together in celebration of the company's performance the previous year and for surviving the holiday season. So this year, they booked their employees and their families and significant others for a 4-night western Caribbean cruise, aboard the fabulous Celebrity Century, a ship awesome enough to have its own Wikipedia page.
I'll work on getting you guys the photos soon, but the vacation itself was incredible. Sure, we had satellite television on board (I got to watch the BBC World Service! and Sky News! and Cartoon Network in Spanish!) but Internet access was so prohibitively expensive and the trip only a few days that it didn't make sense to spend the money on it just to check email and post to Twitter. So I put my phone in airplane mode, carried it around as my camera, and didn't think twice about it.
Now if there's anything you should know about me, it's that I'm not a huge fan of unplugging. My idea of vacations and relaxation tend to involve fiddling around on the Internet for leisure activities, so it was something of a culture shift for me – but it's not one I had a problem taking to. There was enough to do on-board, enough people to hang out with, enough to drink (Raevyn sprung for the unlimited premium drink plans – which included tasty adult beverages,) and enough other things to see that I can't say I was ever bored. Whether I was taking photos of the port of call at Cozumel, Mexico or I was relaxing on the deck just reading, I don't think I was ever wanting for things to do.
Speaking of which, on the trip I managed to tear through Gary Vaynerchuk's Crush It! in about a day, and it was incredible. Virtually every tip for building communities, attracting attention to your work, and living your passion are things that I absolutely plan on doing. It may sound cheesy, but after you hear what he has to say, you won't think twice about building your "personal brand." I then moved on to The Unfettered Mind: Writings from a Zen Master to a Master Swordsman by Takuan Soho
, which is a thinner book but much more of a dense and philosophical read.
So reading Crush It! got me thinking about the technologies that I currently use and whether I'm making the most of the ones available to me. I started thinking about some of my blogs that I love but that I update out of principle, not because I think they've beneficial to my writing, and thought about what I'd like people to focus on when they find me on the Web. I thought about ways to make my brand more focused, and put out more content at the sites that matter the most for where I'd like to go. I've got some work to do – I picked up a couple of new domains to keep in my back pocket, and I'm already planning a move to PicPlz instead of my moblog, moving to my Flickr account over maintaining Gallery over at PhotoWerks, and even pondering a Tumblr account for those quick-hit videos and things I want to share but don't want to burden my friends at Twitter or Plurk with.
We'll see – it's a lot to do on top of everything else, but I'm pretty excited about doing it.
I've also got some other things on my mind that I'll keep under wraps right now for fear of jinxing them or making the wrong move publicly, but I'll just say that good things are afoot, no matter what.
Now then, I've got work to do. Someone remind me not to sleep the weekend away?