sense :: taste // a hot cup of
pg tips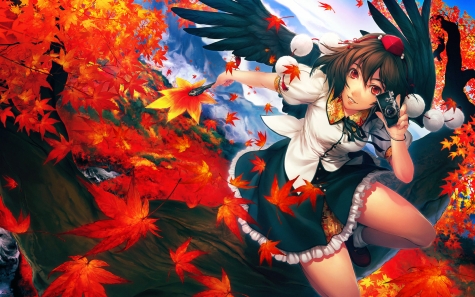 It's been a long time since I've used this image, but it's still one of the first ones that leaps to my mind when I start thinking about autumn – the changing colors, the bright beauty, the fading light, and the coming cold…they're all there. I fell in love with this long before I realized the character in it is Shameimaru Aya, from Touhou Project. Even though I'm not at all versed in Touhou's incredibly deep and expansive lore and history, I still love the imagery here, and how frequently this character is associated with fall and falling leaves. I kind of dig her old school camera, too.
That said, we're looking at October now, and 2012 is heading rapidly for a close. I'm kind of surprised at how quickly this year has passed: everything seemed to move so slowly at the beginning of the year, and then somewhere during the summer everything picked up the pace. Still, I'm speaking from a place of personal perspective – I just hope that the holidays this year aren't too difficult to deal with.
I've been slowly but surely making time and space for my personal and pet projects–a little here and a little there, nothing drastic or major just yet, but the key to being more productive for me is to better manage my time, and I'm glad to report that at least some of that it working well for me. I still think I could use a vacation, and I'm certain I'd be able to take a day off here and there in the coming weeks (maybe even for my birthday), but with Raevyn starting a new job herself, I don't think any week-long getaways will be in order for a bit. Still, a couple of spare days just to pick up some of the latest video games would be enough recharging for me, I think. I'm a dork like that.
In other news, I've been working pretty hard to minimize my "urban guilt," as they call it – having moved into the city, I try to make sure I get out on the weekends to experience the city for all it's worth. All of the farmer's markets and espresso shops, new businesses and budding districts…I know it can be tough on Raevyn sometimes to get dragged around town to a new shop or restaurant, but I'm hoping she's enjoying the lifestyle a bit too, as long we don't go overboard. Just a couple of weeks ago we discovered that a historic market in DC recently reopened, and the place is brimming with great shops, nice people, and a killer Peregrine Espresso bar. Our usual haunt for fresh veggies and quality meats and cheeses is no slouch either, but it's always good to have selection, especially considering when I lived in the suburbs, the only "selection" I really had was which chain grocery store to drive to.
That all said, some of these wonderful markets just make me miss New York City, and the beautiful Union Square holiday market that pops up there every year. I went a few years back when I was in town for the holidays, just taking an impromptu vacation on my own, and I still miss it – and miss the city. It might be time for another visit, but I'm sure I've said that before.
So even though I wrote about them at Lifehacker today, I really have to send some love over to the folks at Relaux for their killer playlists. I'm listening to one – biomimicry, as the name implies – right now, and I adore it. It's one of my favorites, but not quite the fave. If you give the site a shot, I'll be curious to hear what you prefer. Personally, I find the music is the perfect sweet spot of interesting and work-oriented, so I can focus on the task at hand and get things done while I'm listening. Kind of like Freefall in that respect.
Anyway, if you'll excuse me, it's about time I brought out the long sleeves, fluffed them a bit, and maybe stretched out the wrinkles from storage. After all, this is my favorite time of year.