sense :: smell // chinese food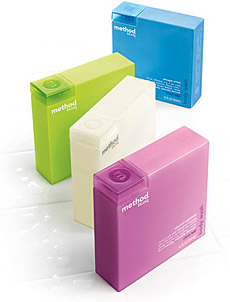 I have to admit, I'm a fan of the Bloq. To tell the truth, I'm in love with anything made by Method, but the Method Bloq has that kind of contemporary, urban, sleek design that just draws me in, it makes me want to touch the box, to smell the lotion inside, to squeeze it out into my hands and rub it all over…okay you get the point.
But that shouldn't discount the actual lotion. We picked up the "Escape Artist" (beach sage) a few weeks ago, before that post at Uncrate linked above was written, and from the moment we popped the top and smelled the lotion inside, we were in love. Like all Method products, Escape Artist actually smells like what it says it's supposed to smell like, Sage – real Sage, as if it were growing out of the bottle of lotion. So we bought some and took it home, with every intention of putting it in the guest bathroom that's closest to the computer room upstairs.
It never got that far. Somehow it managed to wind up on Raevyn's desk, from which we both partake when necessary, and given that my skin can get pretty ashy sometimes, that's been some what often. I love that stuff. It also doesn't hurt that we already have given up traditional Lysol and Chlorox cleaning wipes for the Method wipes that smell so much better and clean just as well (the Cucumber is shown, which happens to be my favorite – although I'm starting to learn to love the Lavender). Might I also mention they have a fantastic blog?
Okay, before you think I'm a paid shill, I'll stop. I just love them both as a company and I love their affordable and effective products.
Still, they have other stuff in the Bloq…body wash…shaving cream. Maybe I should give them a try as well….