sense :: taste // vodka & tonic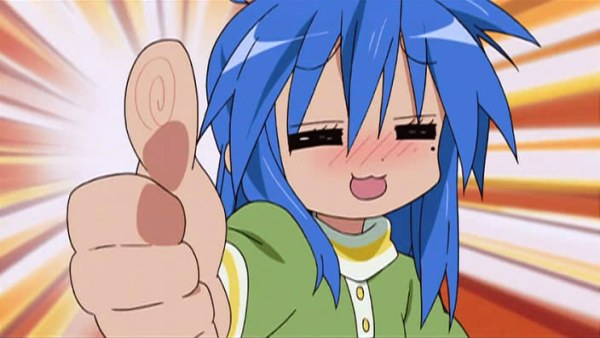 Konata looks so blushy and wary in this photo, but she's approving nonetheless. She reminds me of how I feel at the office half the time; except probably less blushy and more rage-y. Maybe it's a bit how I'd be after a few drinks: wary but approving. That sounds about right.
In any event, speaking of the office, I need to make a point to get out of the office more often, and on time more frequently. My old director tends to stay as late as I do often, and he likes to use it a trap-time to try and get me to own things that he really ought to, but he just doesn't want to – things that he knows full well that my new director would never agree to if he were there in the room-he sees through them as much of a waste of my time as I do, and essentially a way to alleviate the stress and pressure on my old Director so he has more breathing room. I wish I were a bit more comfortable standing up to him, but he's the guy who hired me and we have such a good rapport. It's tough saying no to him, or watching him get visibly unhappy when I defend myself. Even so, I have to do it. I suppose this is more of a reminder to myself. It's just unfortunate that the prevailing attitude in many parts of my department is "how can I make this someone else's problem as quickly as possible," instead of "how do I get this shit done as soon as possible so we can all go back to surfing the web," the latter usually being my motivation. Dammit, there's a whole internet out there to read!
In any event, I've been working on a few projects. Now that Photowerks is working again, I uploaded a bunch of photos that I owe you guys. Everything from unboxing photos of my new MacBook Pro (and by new, I really mean I bought it in March) to the components that went into my new computer (and Raevyn's, of course).
I also bothered to finally post photos of Digital Life 2007, and our trip to New York City around the same time. There aren't a TON of pictures, but you get a feel for the show, which is the important thing. I absolutely adore the little girl in the seat of the F-1 racer though – that's just classic:
So with Photowerks working, it makes me want to take more photos. Nothing more inspiring than an empty SD card to make you want to take as many photos as you possibly can.
In addition to that, I'm dying to update the Novawerks page with the myriad places on the Web you can probably find me these days. My "professional" page should probably be replaced with my LinkedIn Profile at this point, and while I'm sure you guys already know where to find me at Plurk, what you may not know is that I'm over at Twitter, too.
I should probably add that I'm contributing to Gearlog, to AppScout, to GoodCleanTech, where I more than happily freelance, and that I'm pretty much the only blogger left at the Azeroth MetBlog. And then there's all of the other places that you already know: Gears and Widgets, Not So Humble, Plastic Bohemia, and of course, Livejournal. Hell – I even have a not-as-oft-as-I'd-like used Moblog.
You think I'm stretching myself a little too thin?
In any event, I've been spending some time over at GrooveShark lately, which is almost as much fun as The SixtyOne. T61 is perfect for those days at work where I just want the radio to play, and while GrooveShark does have an autoplay feature, I dig it much more for its huge music library and the ability to create playlists of tunes I know I'll love. And yes, before you ask, I reviewed it at AppScout, and it's recently-spawned little brother Twisten.fm.
So I've been all but wrapped up in Web-related stuff lately. I could get used to this, to be honest. I'd love to do it more often.
It wouldn't be such a bad idea: I just did my taxes, and ouch. That little side-income from my freelancing gig added up to some serious taxes; which I kind of expected – I just didn't expect so much of it. It's no real problem, it's just rough to absorb all at once. First thing Monday I'm revising my W-4 to take a little out of my paycheck regularly to cover taxes from my freelancing.
I've been meaning to do what Lifehacker suggested a while ago and take a day off – a "money day," to organize your finances. I already signed up for Mint, which will hopefully help – I've been a fan of the service for a while, I just needed to put in the energy to get it all set up.
Here's to taking control, especially in an economic climate like this – not that it's bad, but it presents a serious opportunity for people to get a hold on their savings and their spending, and to take control of their own consumerism – whether it's good, bad, or just a fact of life. Personally, I'm looking to live a little barer if possible and save more for the future, even if that means investing-which yes, I know, in this climate is particularly dangerous.
Anyway, that alone could probably keep me busy, but then Otakon is coming up in July, and I've already booked the hotel. I'm more than looking forward to the time away, relaxing.