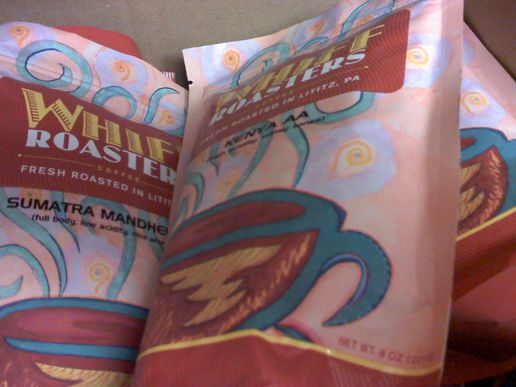 Just in time – the day I ran out of coffee, my new order from my beloved Whiff Roasters arrived. I think it's a good 10 bags of delicious, fresh-roasted coffee in vacuum-sealed bags from a local roaster. To be fair, they're not THAT local, but they're more local and more delicious than most coffee I can pick up in the stores around here, with the exception of Mayorga, which is actually a little ways south of me – I have to make a trip to go grab some, but it's worth it when I do.
At least my personal indulgences are relatively safe for the most part: coffee, fine wine and liquor, a dark beer, and a fine meal.
Now I just have to decide which coffee I want to try – I ordered a bag of the Divine Grind because a part of the purchase goes to charity – I think I'll start with that one, it sounds good, and that cranky bird on the front looks like me when I wake up in the morning.
I've finally finished testing out and running through the products I got for my first article at Tom's Hardware, so now I get to settle in and do the actual writing – which for me is actually the easy part. Here's hoping I can pick up the pace after this; it'd be fun to crank out some more material for such a name so large. I just wish I had more time to write! I think I'm on my third month now keeping all of my blogs on a regular update schedule, which means two of them I update daily, one of them I update twice a week, and the others I update once a week – I try to leave the weekends open for personal blogging and other projects like Tom's, but then I wind up running errands or sleeping in or something of that sort.
I guess I just need to take a page from my man Gary Vaynerchuk and just put some more energy into the things I love instead of the things I like – I've heard it since I was a child: you make time for the things that are important to you, and when things are important to you, you make time for them. I still think that's true, all things considered. Lots of things compete for your time, but if you're steadfast about the things you love, you'll make the decisions that foster those things that matter to you the most; whether they're family, loved ones, hobbies, jobs, or dreams.
Speaking of such things, if you're not following Lorelei Complex (my moblog), you should be – I've been making a point to post every time I take a shot of something interesting, and my cameraphone has been holding up to the test pretty well, I have to admit. Sure, I take my full camera to places like Otakon, and I upload those photos to Photowerks, but my cameraphone is perfect for those times when I find myself doing crazy things like driving behind a Tesla Roadster!
Now then – I really need to get to the grocery store and run a few errands before it gets too late, and then I have plenty of writing to do. Between Tom's and the two web projects I have in my back pocket, just waiting for time to write them, I have a lot of ideas swimming around my head, and I worry that they're reaching critical mass. I've always been that kid: I get so full of inspiration and fanciful dreams that if I can't get them out somehow I feel like I'm going to explode.