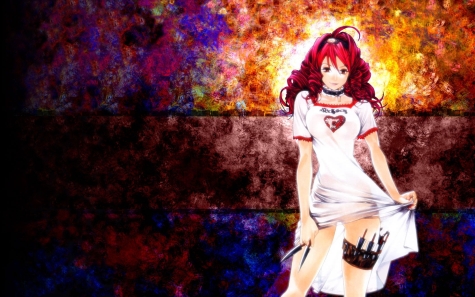 that's one of my favorite desktops up there – I guess I just have a thing for girls who know how to handle a blade or two.
What an amazing couple of weeks! I didn't expressly mention it last update, but I went up to New York City for New Year's, and had an amazing time. Rang in 2010 in proper style with a party at Alms' pad, and met a ton of new people I was more than happy to be introduced to. Spent a good couple of days in town too, seeing a few places I hadn't seen before, and eating in a few tasty places that I hadn't experienced – including this place called The Grand Lux Cafe, which served hefty portions of really elegant food, and if you order your dessert when you order your entree, they'll bake it to-order in the back while you're eating your meal.
That's right – we had an apple tart, fresh baked beignets, and pecan chocolate-chip cookies: all fresh baked, brought to our table to eat after our meal. Naturally we wound up boxing most of the desserts up and taking them back with us for future devouring while watching the Doctor Who marathon on SyFy. Thinking back, it's hard to believe that I was on a train to and from New York City only about 2 weeks ago.
As soon as I got back in town from New York for New Year's, I was packing my bags to head to Las Vegas for CES 2010. I couldn't even begin to explain how fantastic the trip to Las Vegas was here, or how wonderful CES was as a whole, but if you follow me on Twitter you'll see all of my updates in my history for that time period. The trip out there was interesting enough, but the suite I stayed in was even more amazing than the trip (photos of the suite at my moblog, and yes I really need to upload the rest of the pictures I took!) and since I could see the fountains at The Bellagio (where I stayed) from my suite window, it was an even more memorable trip.
The show itself was fantastic, and I saw a lot of really promising and really interesting technology there. I've posted a number of those sights and sounds to Gearlog, and I'm planning on posting more as I get review units of some of the really awesome gear I saw at the show. I even have some video in my back pocket, if my editors like it. Today I picked up my box of swag that I mailed to myself from the hotel in Vegas, so I'll have plenty more to write about when I get a little more free time. In fact, this has been the first couple of days I've had some free time to write at all since I got back in town last Monday, and then werk set in full-force.
But back to Vegas for a second – I managed to meet up with a lot of PC Mag folks while I was out there, the least of which for dinner once before everyone flew back out of town, and my editor at PopSci happened to be in town as well, so it was really good catching up with her again. Also, Blogging Molly herself, of A Duck a Day was there too, and it was good talking to her again as well. I also got to meet the illustrious Narilka in person after knowing her digitally for oh, what now, 10 years, for dinner, and meet her husband Zadesquieb as well – that alone was worth the trip. Actually, now that I think about it, there were probably a couple of dozen moments like that, that I could say were alone worth the trip.
Whether or not I'd go back next year though depends on who I'd meet there and what I would do – the show was amazing and an incredible experience, but Vegas really is a "buddy city," one where you simply see and do so much while there that it's ten times better having someone to bounce your sights and sounds off of. I was incredibly proud to make the trip myself, frankly, but next time it'd be cool to go with a friend or even another journalist covering the event.
In the meantime though, I'm back in town now, and my spate of traveling over and across the holidays is all said and done. I don't have any travel plans at all for at least several months, and I'm going to have to do something about that. Talking to my mother and father about my recent trips has been wonderful, and they wholeheartedly encourage this new wanderlust – I'm young, single, and have nothing tying me down – I should be able to freely go see my friends in far-off places, meet new people, eat at fancy places, and fall head over heels for new cities…and the people who live in them.
For the meantime though, I'm back here in my apartment with my feet up, making sure to suppress the start of a cold that's trying to eek it's way up my throat. I managed to stay well my whole time in Vegas, and not catch the same CES-plague that caught up with just about everyone else I knew who traveled out there, I have no intention of slowing down now. The real question is whether I should hop a train back to NYC sometime in the near future to see some people I miss dearly, or whether I should head off somewhere new and different. We'll see.
In the meantime though, I have a ton of writing to catch up on, photos to upload, and for once I think I'll get a good solid night's sleep.
Just for you guys though, I'll…just sit this here. It's one of my favorite new blogs – never ceases to bring a smile to my face.