sense :: taste // goldfish crackers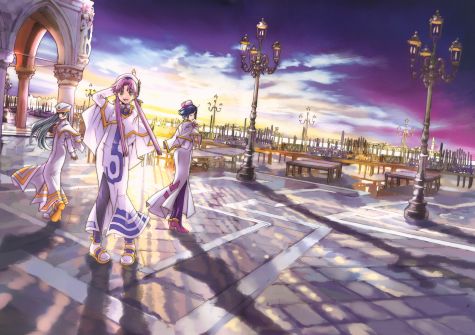 I'm on a little bit of an Aria kick, mostly because I'm desperately waiting for Aria Volume 6 to be released in the US (not that I think Tokyopop ever will actually release it, but eh) and I still adore the art style. I could re-read the ones I have forever and still love the beautiful art and the wonderful slice-of-life stories in each issue.
Otakon was lovely, as usual, and while I didn't get nearly as many pictures as I normally do, I did get a few of some great cosplayers. I spent a lot more time this year in panels and viewing rooms and things this year, which I'm more than happy to say, and I only spent a couple of hours in the dealer's room this year – mostly because I was only looking for a few specific things, and when I found what I wanted, I picked it up. Granted, I did come home and order a few things I didn't find (or found online for less than the Dealer's room) but since the con ended on Sunday, I went back to work on Tuesday, and this weekend I'm headed up to see my family, I haven't had time to unpack my new gear, much less relax and take a break from both the vacation antics and the werkweek.
The result of this is a lot of dirty clothes, an apartment that needs some vacuuming, a pretty empty fridge, a couple of gadgets to review that I'm waiting to find time to review, and a living room piling up with shiny new toys I haven't had time to play with just yet. One of my friends had a great idea – take next Monday off and spend that one just around the house doing everything I've been planning to do. I'm also thinking I should take my own advice (since I did pen an article at The Classy Geek about how shopping for groceries online can save you money and be healthy) and make a Peapod order and get myself some groceries.
I don't mean to completely spoil what a wonderful time I had away from the office and at the con with that griping however – I had a really really wonderful time, and as usual it's always wonderful to see Hannah and Rae and Raevyn, especially at an event like this. I had a fabulous time, ate well, slept well, saw lots of great things, and ate at California Tortilla. I got spend a little time with the lovely Kittyhawk of Sparkling Generation Valkyrie Yuuki where she was in the artist's alley, and she was lovely enough to sign a copy of her latest book for me and draw a print for me while I waited. It was awesome. I even stopped by the J-List and picked up an Obey t-shirt, which will get a laugh out of Code Geass fans who understand the joke.
That all being said, I think I'm going to make a list of the things I really want to accomplish. I already use ReQall religiously, and it feels really good to be able to mark off items that I've completed; maybe it'll help with this feeling of wanting to do so much but having my time drained away. Even as I say that however, the reason I adore the Aria wallpaper above is that it feels so vacation-y and so fantastical – much like the world in the Aria series. I've had getaways on the mind lately – I've even been thinking about where I want to move when my lease is up next spring. And no sooner than I got back from vacation did I start thinking about a new vacation – maybe getting my passport and going somewhere abroad a little bit, another cross-country trip, or even just another casual trip to New York City on the train. We'll see.