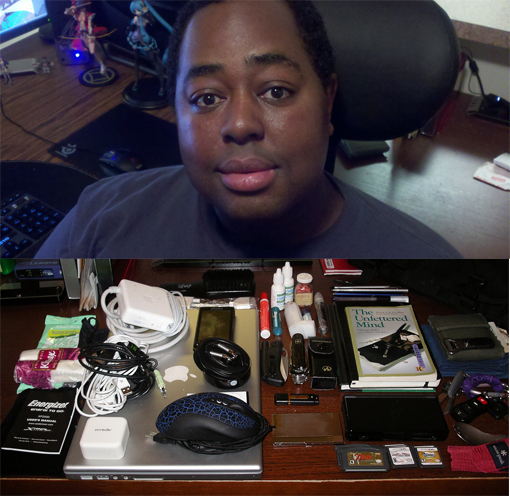 The shot above is something like my own contribution to Our Secret Stash of Stuff, which DBlume brought to my attention over at Plurk. I think everyone there was intrigued by the notion: putting everything that you carry around with you out for everyone to see. In some cases it's the first time any of us put it all out in an arrangement that you could take in at one time with the eye. It's so easy to just stuff things into a bag when you think you need them, but how often do we really take in what we carry with us every day?
The photo, with tags, is available over at Flickr, along with a pair of close-up shots of each side of the larger photo. You can enlarge this one just by clicking on it. Yeah, it's kind of impressive the sheer amount of stuff that I carry around in my bag every day.
So it's been a long enough time since Otakon, but I'd been meaning to post this tidbit for at least a couple of weeks. Between life and work and freelancing, things have been changing pretty rapidly around me, and I've been struck with the task of figuring out how exactly I plan to change – if at all – to adjust to them. I'm seeing familiar faces leaving the day job and my freelancing gig, and I'm pretty bummed about it, but I have to soldier on as much as I can. I suppose this is the benefit of diversification, right?
Still, it's always difficult to watch so many things change around me and then have to deal with how I want to respond. Even at the day job things are changing pretty significantly, and I have to decide what I want to do about it. I could find something new, I could drop it entirely and focus on freelancing, I could continue to walk the tightrope that I have been…the choices go on and on. That's my biggest dilemma at the moment.
In somewhat brighter news, the loot is all unpacked from Otakon, and I really need to go ahead and upload my photos of the con and the aftermath to Photowerks. I have plenty – and while I didn't take as many photos as I really wanted to, I definitely had a wonderful time, and I'm still thinking about my next time away from the office and where I want to go. The longer I wait, the fewer options I have though – I'm pondering another holiday-time trip back to New York City come December, and I'm definitely thinking about going back to CES in January 2011. Maybe I should just save my pennies for then and wait.
In other news, my lease is up in May of next year, and I've been thinking about what it might be like to move downtown to Washington DC for a couple of years, to prime myself for the downtown life that I'm looking forward to when I eventually move to New York City. It'll be fun looking for a place to live in a city, and I think between that and New York I'll have done some of the things I wanted to do before eventually – someday – settling down in the Seattle area.
I know, I'm a little lofty about it, but I don't want to lose sight of those dreams. In the interim, I have a few priorities to refocus on, like saving the money to get there and reducing my own personal debt. I'm not in bad shape, but there's always room to improve and plan for the future.
Of course, there's that, there's more pimping I want to do for The Classy Geek, and there's some redesign work I want to do at Gears and Widgets. Maybe I should make a list, that usually helps.