sense :: taste // flavor-blasted cheddar goldfish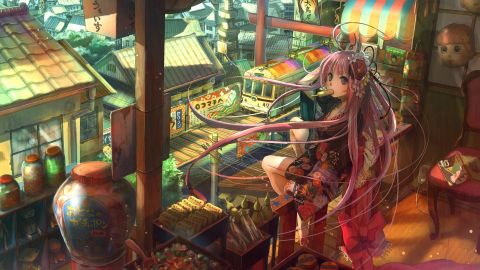 I can't even begin to fathom how many words I've put to paper this week. Wednesday and Thursday alone I wound up writing somewhere around 9-10,000 words by the time I was finished updating Gears and Widgets, doing my Macross Plus feature over at The Classy Geek, and then writing the hands on reviews that posted today at Gearlog and AppScout.
Just today I wrote the hands-on with Angry Birds for Android, which was pretty remarkable to finish up so quickly, but that only adds to the Sonos Controller for iPad hands-on I did, and the ION Discover DJ hands-on, and perhaps the one I had the most fun doing recently, the Gigabyte Aivia K8100 hands-on. Most of you have probably seen all of these links before elsewhere, but you know, I really can't help it when I put so much work into these reviews. I know, I know, a lot of bloggers and writers for far more popular outlets do this stuff all the time, but I'm really hitting my groove with a lot of these, so I'm proud of myself to say the least.
The Sonos hands-on was a ton of fun, and probably the one I'll be most sad to see the equipment shipped back to them. The ZonePlayer S5 itself is a really sleek piece of equipment, and I love the fact that you can control it from a computer or an iPad or iPod or iPhone completely wirelessly. They sent me a pair along with the iPad that had their app pre-loaded on it, and there's something stupidly futuristic about walking around the apartment with an iPad and firing up music in rooms I haven't entered yet as I go.
I hit on it at the end of the article, but there's something really really amazing about looking back to even 10 years ago when if you wanted high quality audio in your home you had a cabinet full of receivers and individual components and you had to go twist a bunch of knobs just to change tracks or bump up the volume. Now, just tap your iPad to switch tracks, play something different, or even listen to the radio – and you can do it all with a box that's light enough to heft with one hand but powerful enough to sound out a large room. The future is now.
That's not to say all of the gear and games weren't fun to use – I really like doing hands-on reviews, and I have a couple more up my sleeve for another publication. I'm starting to get into mobile phone reviews, which I think is a great growth area for me, I just need to pay attention to some of my favorite reviewers (folks like PC Mag's Sascha Segan and Boy Genius over at BGR) to see how they do it and some common things they include in all of their reviews. Now if only I can get some of the carriers to freaking respond to me, I'll be all set. Gotta love Verizon Wireless though – they got back to me the quickest, and now I have a shiny new Droid 2 by Motorola and Samsung Fascinate (aka Galaxy S) on my desk at home to put through its paces.
All of the writing this week aside, it's been remarkable watching the fall descend on us so rapidly. A couple of days of wavering temperatures and suddenly the world outside is a dozen different shades of green, red, yellow, and brown. The drive to the office this morning was littered with raining leaves, and the wind is just starting to blow hard enough that the first loose leaves are shaking free of their branches and littering the ground. Autumn is here, and she's beautiful.
To boot, my birthday is this weekend. I don't make a big fuss about it usually, but Raevyn is taking me and a couple of her coworkers off to play laser tag tomorrow, which I think will be fun if I can get past my usual awkward social anxiety. People who know me probably wouldn't imagine that I get such a ridiculous feeling of dread when it comes to meeting new people and getting out and doing things like this – after all, once I'm there I tend to settle into the experience just fine and have a great time to the point where I don't want to leave when it's all over – but leading up to it the whole situation makes me kind of anxious. I should work on that.
Still, I had thought everyone was going to forget my birthday, but here my parents come on Wednesday with cupcakes and a birthday card, and here comes Raevyn with a big box from ThinkGeek that she's instructed me not to open until Sunday. It feels nice. Really nice.