sense :: taste // Zeke's Nicaraguan Selva Negra Coffee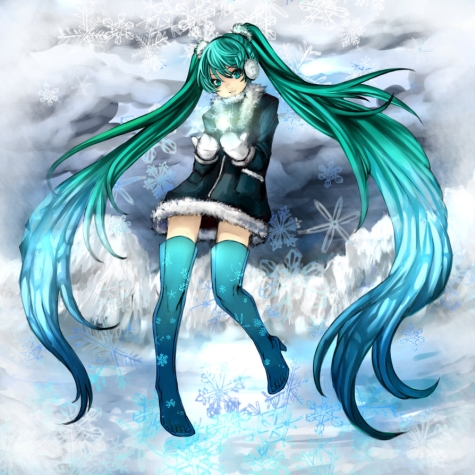 The beautiful rendition of a winter-themed Hatsune Miku is courtesy of eroji at DeviantArt, whose page I found the artwork on. It's really pretty – and definitely fits the mood right now.
It's been cold lately – very cold. I haven't said too much since New Year's because – at the risk of sounding like a blogger who's blogging about why he hasn't blogged – I've been pretty busy and under a good clip of stress and feeling the overwhelm. I've been writing a lot – not as much as I have in the past, but a really good amount, and some new opportunities are on the horizon that could swing either way, so I'm looking cautiously at the future hoping for the best. Regardless, I think things will turn out okay, no matter what happens.
Still, I could always use a few more gigs, and I'm hoping I find more to do. I do fear, however, that I'm rapidly coming upon a point where I'm stretching my time and sanity to its limit on both the day-job side of things and freelancing side of things. I may have to make a real decision soon about which I would rather prefer, or whether there's a good and solid way to blend the benefits of each into a way that will make me happy but won't drive me nuts. I keep thinking to myself that if I had the time to really focus on my writing, I could do so much more, and do so much more meaningful work….and at the same time I think if I had more passion and time (but note the passion) for the day job, I could probably rock that gig more than I already do. Right now I have things at a very interesting and unique balance. At least I have the power to choose where to go from here – or to maintain the status quo.
Along with all of this on my mind I've been thinking about the inevitable move downtown to DC this coming summer. These first few months will be behind me before I know it, and it'll be very quickly time to start minimizing my things, looking for an adequate place, and making sure that we get everything we want in a home without any of the ick that we don't want. I'm looking forward to the experience more than I can say, but it's pretty scary at the same time. Those are the things that build character, I suppose.
Even so, it's a new year, with new opportunities and chances to do new things differently. I'm hoping to kick off 2011 with a bunch of simple self-improvements, some of which I've already done – if you head over to Nova Netwerks and my professional portfolio, you can see some of my handiwork. The best part about both of them? I did the right after New Year's. Great way to get some resolutions under my belt, eh? Pondering similar redesigns to other sites, but then again, when am I not?
Speaking of New Year's, it was lovely – I spent the evening watching the ball drop, nibbling snacks, and sipping Prosecco with Raevyn, which is always a good time, and of course blowing up Twitter when midnight came around. Since then, it's been enough of a mad dash – especially with the day job – that I haven't had much time to feel the post-holiday blues. Still, the snow and freezing rain we've been getting on pretty much a weekly basis hasn't done much to help things. I normally don't say things like this, but I'm definitely ready for spring – partially because spring is about the same time I have to get ready to move.
Right after New Year's though, I got to watch the festivities at the Consumer Electronics Show (CES) from all the way over here – next year I'll definitely make it out there, but this year I figured it would be better to save some dough and make sure I'm not stretching my finances for an event that I wouldn't have gotten a ton of extra money to go to. Still a little bummed I missed some of the events, but all in all I think I got the bulk of the cool stuff secondhand, and I wrote about a ton of it over at Gears and Widgets, so go peek if you're curious what I thought of the show. All in all though? Tablets and smartphones – that's all you need to know.
Now then, to take a few moments and make a little plan for myself to organize and minimize. I'm looking forward to getting back in the swing of things here.