My love affair with TheSixtyOne hasn't dimmed by any stretch of the imagination. Leveling there is slow, but it's oh so worth it to hear so much new music that I would never have been able to hear before. For example, if you're in the mood for a little upbeat electronica, I've been jamming on CASIO's Sexy Friends:
It's a lot of fun, but warning, it's a bit long. I tend to listen to the whole thing during those long nights in Karazhan or Zul'Aman when it's me, my headphones, and my Sunfury Bow of the Phoenix. If you're not in the mood for the whole upbeat thing, might I suggest the beateous brilliance of DJ Spooky's It's So Late. It's a softer, more melancholy, and hauntingly rhythmic. I'll probably be posting it to my Pownce feed anytime now.
In other news, I've been lusting over the kinds of home offices that people have posted at Home Office Snapshots. It's gotten me thinking about how relatively dissatisfied I've been lately with my current job, and how lovely it would be to make freelancing a full-time gig and work from home, set my own hours, and work on something I truly enjoy. At the same time, I still owe my editor at ZD a copy of my resume so she can toss my hat in the ring for anything up there; but I hesitate to uproot Raevyn and I from the DC area, partially because I love it here and partially because she just got a promotion at her job and loves what she's doing now. Maybe freelancing is the way to go, at least for the time being.
I had been meaning to give the fine folks at Whiff Roasters some love lately, because Raevyn and I, coffee snobs that we are, have been all but exclusively buying their coffee these days. They'll ship anywhere, and have an absolutely ridiculous selection of blends, both flavored and non-flavored. Might I suggest the Aztec as a nice dessert coffee? It tastes like Cocoa Puffs. Seriously! And in the morning, might I suggest you open your eyes with a nice bold Zart's Blend, or their delectible Kick-Ass Coffee? Yes – they have a blend called "Kick-Ass," and it's fabulous.
In other news, I'm still musing over the costume I was thinking about over 2 months ago now. We still haven't registered for Otakon, but the hotel rooms are all nicely booked and money is slowly getting stashed away for the convention. It didn't help that I had to sink about $1200 into car repairs and new tires, but it's an expense I can recover from, especially if I manage to get my freelancing checks on time. I've also recently fallen in love with Code Geass in recent weeks, and I've been thinking about cosplaying a Britannian schoolboy since I really love the jacket they wear in the anime. The high neckline with the fleur-de-lis on the neck just wins me over. For example: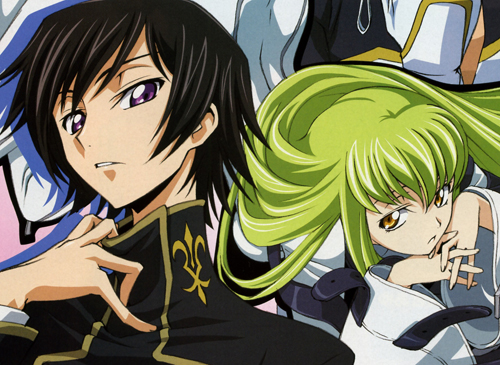 I think maybe I just love the neck line. I could never cosplay Lelouch, it'd require purple contacts, a wig, and probably being of somewhat paler complexion than I am now, but I think I could pull off one of his schoolmates pretty well. I found a few other leads on the costume that are a little cheaper, and I'd have to have it custom made, but I think it'd be nice.
Anyway. I need some time off. The big corporate move to Columbia is at the end of the month, and everything I hear says it's going to be hellish getting up to that point. My gripes and grudges aside that the entire people and corporate move fell to the technology group for a rather silly reason, I'm glad that on the other end of the move I'll feel a bit freer. People's workloads will have lightened, sure, but I won't have an obligation to stay and put up with the mess I've been putting up with. Then again, with all of the stress off, maybe things will get better. That being said though, I really don't like my new seat in the new building, and that could chafe me more than enough to make me go – frankly, I already don't want to go there every day, if I hate my desk space, I'm not going to want to be there any more than an I am now.
But that's not totally why I need some time off – I need some time off partially to regain my wits, some time to just not be tethered to the office, fielding phone calls from my over-needy boss who has no clue how anything we work with works, much less how to help serve our group's customers (how to you make technology recommendations when you don't know anything about the technology? I'll stop there though, I'm not in the mood to get Dooce'd because I talked smack about my boss.) But the past few months I've felt my wits slipping and I'm more and more depressed in the morning before heading into the office. I think I need some time away, maybe take up more hobbies than World of Warcraft, and possibly to chat with a therapist on a semi-regular basis.
The other reason I need some time off is to get my finances in order. I want to save more, and for some reason lately I've been very concerned with nest building. I'm planning on sending my entire stimulus payment (whenever I get it, I was supposed to get it by now) to my lowest balance credit card and work my way towards having that paid off. By November, my car will be paid off, so that'll be some more money in my pocket to pay down debt, and I want to start squirreling away more money for my retirement – I haven't contributed to my 401(k) since I joined the company I'm with now. (Partially because for the longest time – and this changed only two months ago – you could only enroll during an enrollment period every quarter, and even then you had to attend a training class where the HR folks taught you how to fill out the forms and read from a Powerpoint presentation on a projector screen. Have I mentioned my biggest pet peeve about meetings: people who read directly from Powerpoint presentations? I know how to read, thank you very much. Add onto this the fact that our corporate match is something like half of one percent, and it's vested over EIGHT years. Yup – worthless. The only thing that changed is that we have a better selection of funds and you can enroll and manage your account online anytime. Even if the company won't take an interest in my retirement with their vesting schedule and pathetic match, I can take an interest myself.) I have investments scattered across three or four different investment firms and banks, and I want to get some order and control around them. After all, it's my money – I shouldn't let people I don't want to have it keep it just because I'm too busy to take a personal day. If anyone knows a good financial advisor, let me know.
I could fill the days off I want to take with chores and tasks I've been meaning to do, honestly. I managed to vaccuum the house for the first time in months just this week. Laundry needs to be put away as I type this, the bathroom needs to be scrubbed, the dishes need to be done, we have DVDs that need to go back to Netflix, a storage room that needs cleaning, clothes that need to be donated, closets to empty out, a spare bedroom that needs fixing up, a carpet that should probably be cleaned, movies I want to see, the list goes on. It's stressful knowing there's so much to do, so much I want to do, knowing it doesn't necessarily match up, and knowing that I waste 9 to 10 hours a day when I wish I had time to do any of it, much less relax.
Yeah, I think I need a vacation. Or a sabbatical. Maybe both.