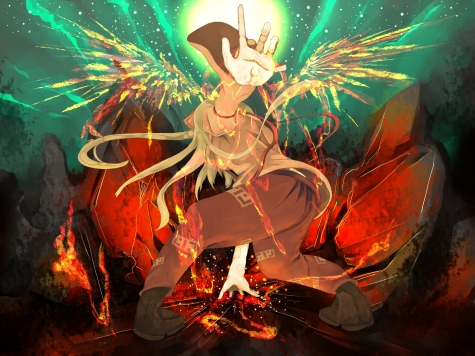 Lately I've been absolutely in love with a couple of different anime, although I've only been able to see snippets of both of them because they haven't been widely released in the United States yet: ToraDora!, a series with a plot that could very easily be a standard anime plot, but in reality is absolutely fabulous, different, and original in a very familiar way. It's clearly a slice-of-life story, but sports a nice guy everyone thinks is violent because of the way he looks, a violent girl everyone wants to be next to because of the way she looks, and the unique friendship between the two of them and the way they handle the rest of their circle of friends. I want to be someone's Ryuuji to their Taiga so bad. Now where will I find a short, sassy, powerhouse blonde? I have no idea….
That's the bulk of the opening sequence of ToraDora! with some added characters and longer effects – I love the opening sequence, but this one's just a bit more fun to watch, and it's in HD! Or…YouTube's version of HD, anyway. When I hit Otakon this year (and it's probably about time to start thinking about rooms and such) I want to see if I can find anything ToraDora! related, maybe DVDs of the series, even if they're fansubs.
The phrase "vanilla salt" comes from the incredibly catchy ending theme:
Which is adorable, but doesn't tell you as much about Ryuuji's character as the end theme for the 2nd season does – Ryuuji loves his friends. And keep count of how many people come to see him, and then how many slices of cake are missing at the end there. He reminds me of me a little.
The other series I've been a little ashamed to admit I really love the idea of is Maria Holic – another story that's incredibly unique but clearly for adults. A poor girl retreats to an all-girl school after realizing that dealing with boys not only makes her ill (she's clearly a lesbian) but gives her hives. At her new school, she meets a boy who's masquerading as a girl – a girl who's not just the central character to the series, but is an amazing, brilliant, sadistic character with a world view that I can definitely appreciate. I almost want to pick up the Manga, but I'm worried that anything released in the US would probably be sanitized, and I don't want to miss the gender-screwing nuances in the Japanese version. Oh, and before I embed this? You…might not want to play it at work. There's nothing blatant about it, but the floating 3d female figures are indeed nude, not that it's not obvious.
That's the opening sequence. You…can see how awesome the series would be. The end theme on the other hand is adorable by comparison, and definitely a pick-me-up kind of video that i turn to whenever I need a little 8-bit happiness.
Anyway, this has already been a pretty video heavy post, and if any of you follow my exploits over at Plurk you've probably seen them all already, and I apologize for the repeats. If not, you're in for a treat.
In other news, it's been a pretty hectic week; I haven't had time to really get back to the things I've been making a habit of quite yet like exercising every night when I get home and picking out records to spin into a mix at the end of the week; but I'm hoping that I can get back to it pretty quickly. I have managed to get myself back to the regularity of cooking my own food and doing some light exercise in the morning, both of which are lovely, refreshing returns to normalcy for me after the holiday traveling. That's not to say I didn't like the traveling, and that's not to say I couldn't have put more effort into exercising while I was on vacation and when I was in Vegas working CES, but I just didn't – now that I'm home though, I'm happy to get back to it.
Speaking of CES, I did my taxes and I should be getting a very pleasant surprise back from Uncle Sam this year because I can claim my home office and travel expenses for freelancing as deductions. The hilarious thing though is that while I can claim those things and I clearly upped my withholding far too much last year to compensate for my freelancing income, and the federal government is willing to pay back my interest-free loan, the state government on the other hand wants a little cash. Not much, but something. The best part is that I was due a refund until I put in the county in which I live.
Besides that, I still have so much stuff from CES that I want to write about and photos I want to upload. CES really was like a treasure trove of experiences and sights and sounds, and that was only partially because it took place in Las Vegas. I'm definitely planning on going back next year. Considering there's something like 28 inches of snow on the ground outside, I might have the time to post those pictures, and those products I haven't written about just yet. I already took the time to dig myself out today, so tomorrow I can relax and spend some time uploading pictures – including those of the snow.
I'm glad I went shopping before the snow hit though, I should be good in here for a good while, curled up where it's warm with a hot cup of coffee. Now, to move the space heater over to my computer.