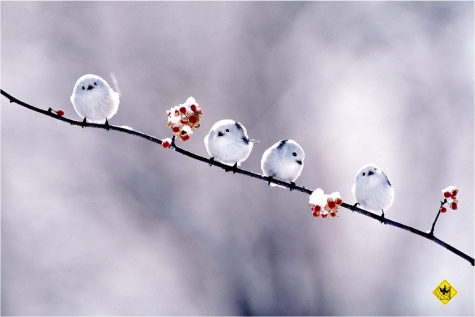 In honor of all of the snow we've been getting in the mid-Atlantic region in the past week or so, I post some happy looking snowbirds that are very likely CG, but still make for a gorgeous photograph. Thankfully I'm all dug out, and our worst snowstorms are almost always met on the back end with warm days that help get the melting process started, but after 3-4 feet on one day followed by another 1-2 feet two days after, there's still a ton of melting to do and literally mountains of snow in places where it's been plowed up. The roads are largely clear, and my shiny new shovel that I bought 2 years ago is no longer shiny, and it definitely got a workout.
Seriously, we've been without significant snow in the DC area for so long that I had almost forgotten what it was like to have snow that was deep enough that you could stand in it up to your waist. It was kind of refreshing, but at the same time, I'm definitely over it. I love the fall and winter, I really do – and although I don't always look forward to spring (I often say that only bad things happen to me in the spring, but I would be kidding myself if I didn't say I loved watching the world bloom bright and green and flowery. I should stop saying that – even if it feels like the world reinforces it sometimes – I'll set myself up for a self-fulfilling prophecy.) I'm definitely looking forward to seeing the leaves on the trees again and seeing the bare ground again.
The up-side to being snowed in is that I've managed to work from home almost every day for the past week. Friday was the first day I'd been in the office since the previous Thursday, and there's supposedly more snow coming tomorrow. Tomorrow's a holiday, so I don't have to worry about going anywhere, but still. The last thing we really need is more snow – it's not that the amount of snow is a huge hassle, it's just that the region just isn't used to this much so we don't have a great way of handling it. People elsewhere in the country like to say "well around here we know how to deal with snow," but seriously if 6 feet of snow wouldn't disrupt your life then I don't want to live anywhere near where you live.
In other news, a little time off (and I don't mean working from home, which in some ways is more stressful than working in the office) is more than welcome. I could use the excuse to sleep until I actually feel like getting up, and playing through some of my backlog of video games. I did manage to beat Crysis, what with all the time at home – maybe now I can dig in to Crysis Warhead, or Far Cry or Far Cry 2. Seriously, my backlog is pretty deep.
One thing I've come to realize though is that I haven't been happier as I was recently was when I was visiting friends in New York City and when I flew to Las Vegas to cover CES. I think about how I felt during those times, even when I was a little lonely, and I'm thrilled by the memory. I had a great time while I was in either place, and I had a great time going and coming. I think I could do more of that. Maybe I should think about traveling again soon.